Product Description
This listing is for a Re-manufactured 65RFE, 66RFE, 68RFE Valve Body with 5 Check Balls, for model years 2009-UP. Please see the photos and illustrations below in our Technical Information section for useful tips and identification information. Solenoid Pack is not included.

This valve body is better than OEM, it features many upgrades to increase reliability over the standard OEM valve body.
These upgrades include: Updated Thicker End Plate, Updated Switch Valve Plugs, All solenoids are tested, All linear solenoids are rebuilt.
PLEASE NOTE: There is a $100.00 Refundable Core Charge that is added at checkout. Once you remove your defective valve body and return it to us, the Core Charge will be refunded to you. For detailed instructions, please read the Core Charge section on our FAQs/Glossary page.
If you need help identifying the valve body you need, we can do a VIN# lookup for your vehicle to make sure you get the right part the first

time.
Please see the Technical Information/Identification Guide below for information on how to properly identify the valve body your vehicle needs. If you have questions or need assistance please contact us and we will do our best to assist you.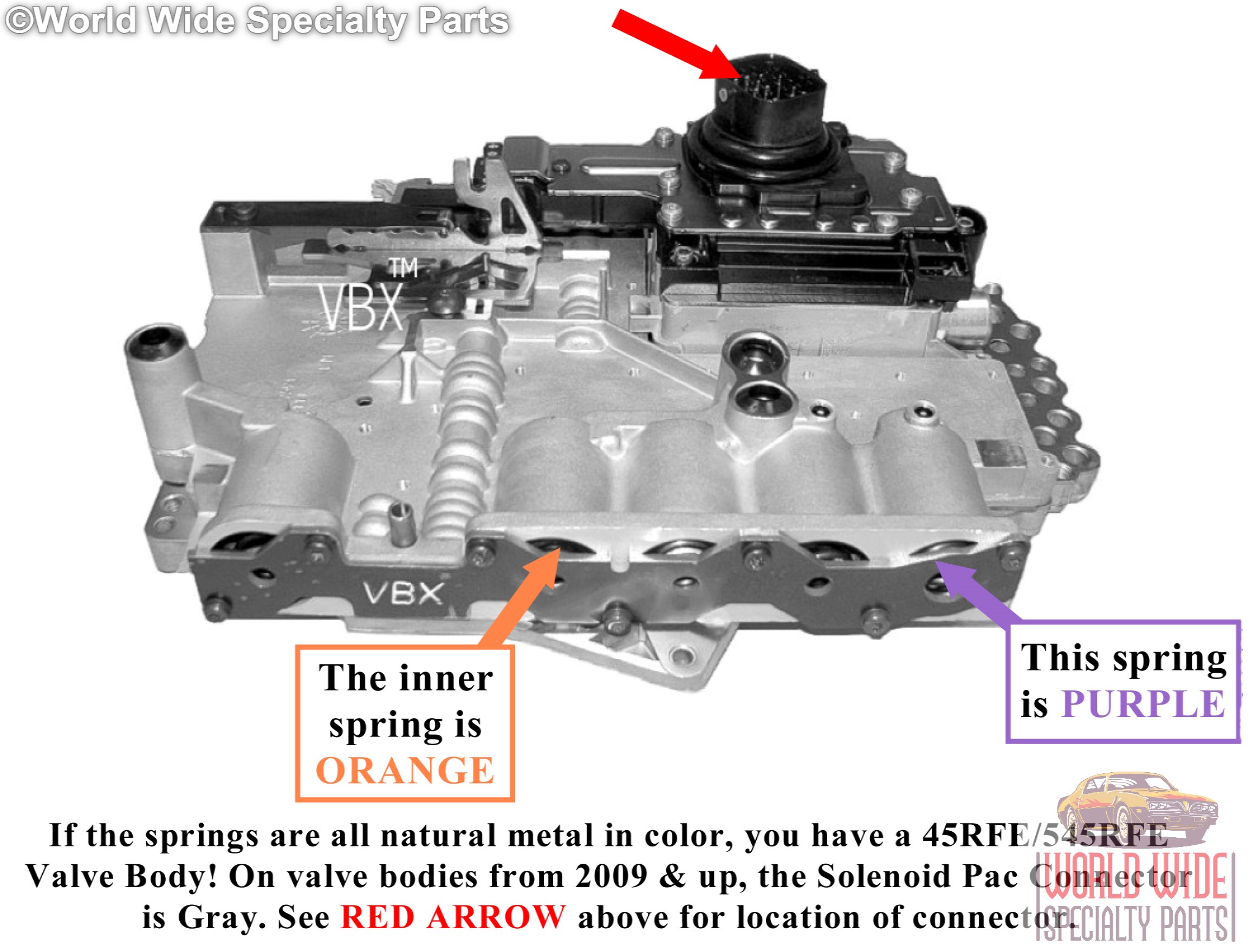 Year Identification - Solenoid Pack Connector
B

lack Connector = '99–'03 (45RFE, 545RFE only)

White Connector = '04–'08

Gray Connector = '09-Later
A good rule of thumb is to replace the solenoid pack with the same color as the original in the vehicle.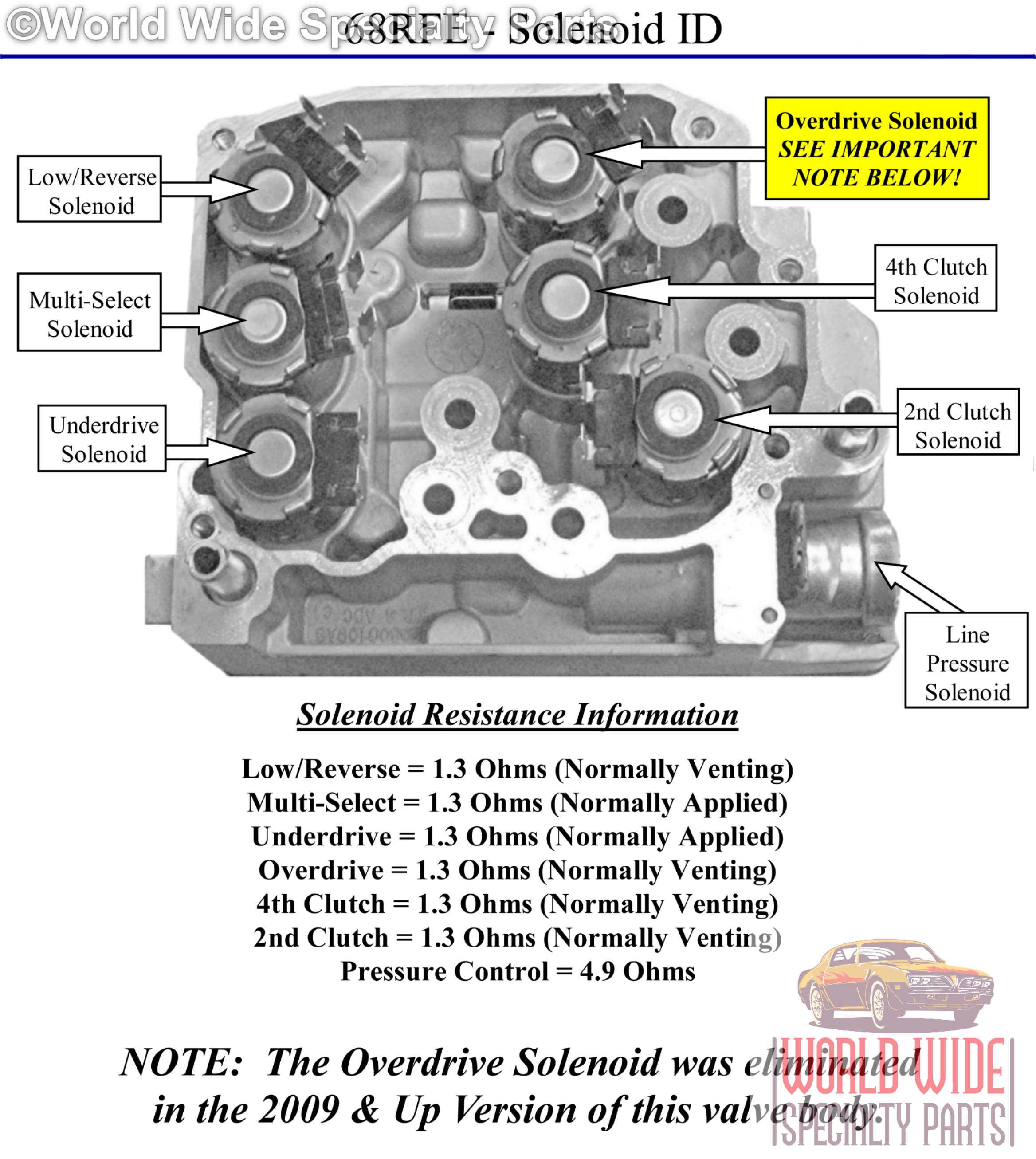 Above you can see Solenoid ID and Location as well as proper resistance levels. Below is a Pin Diagram for the Case Connector.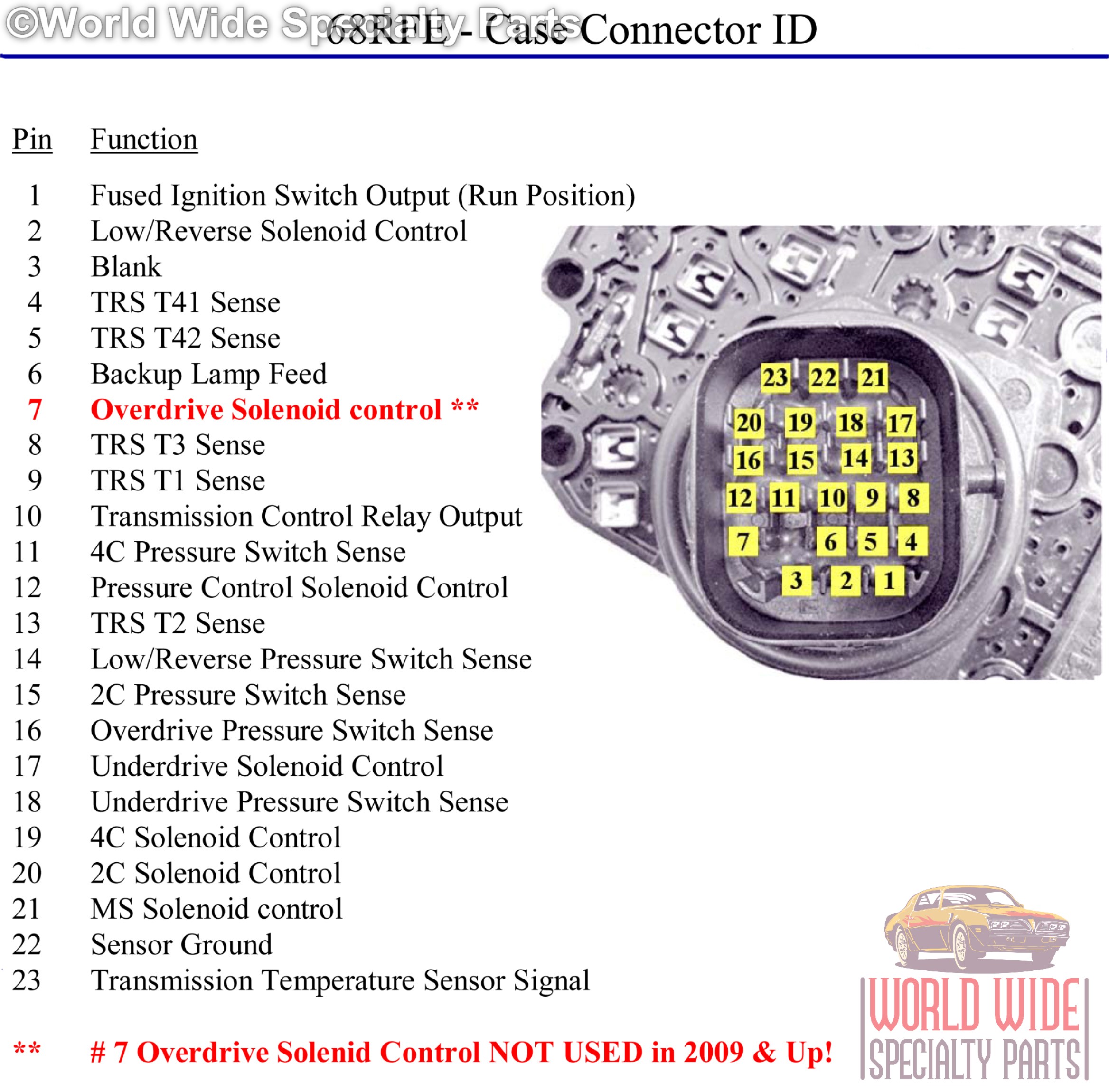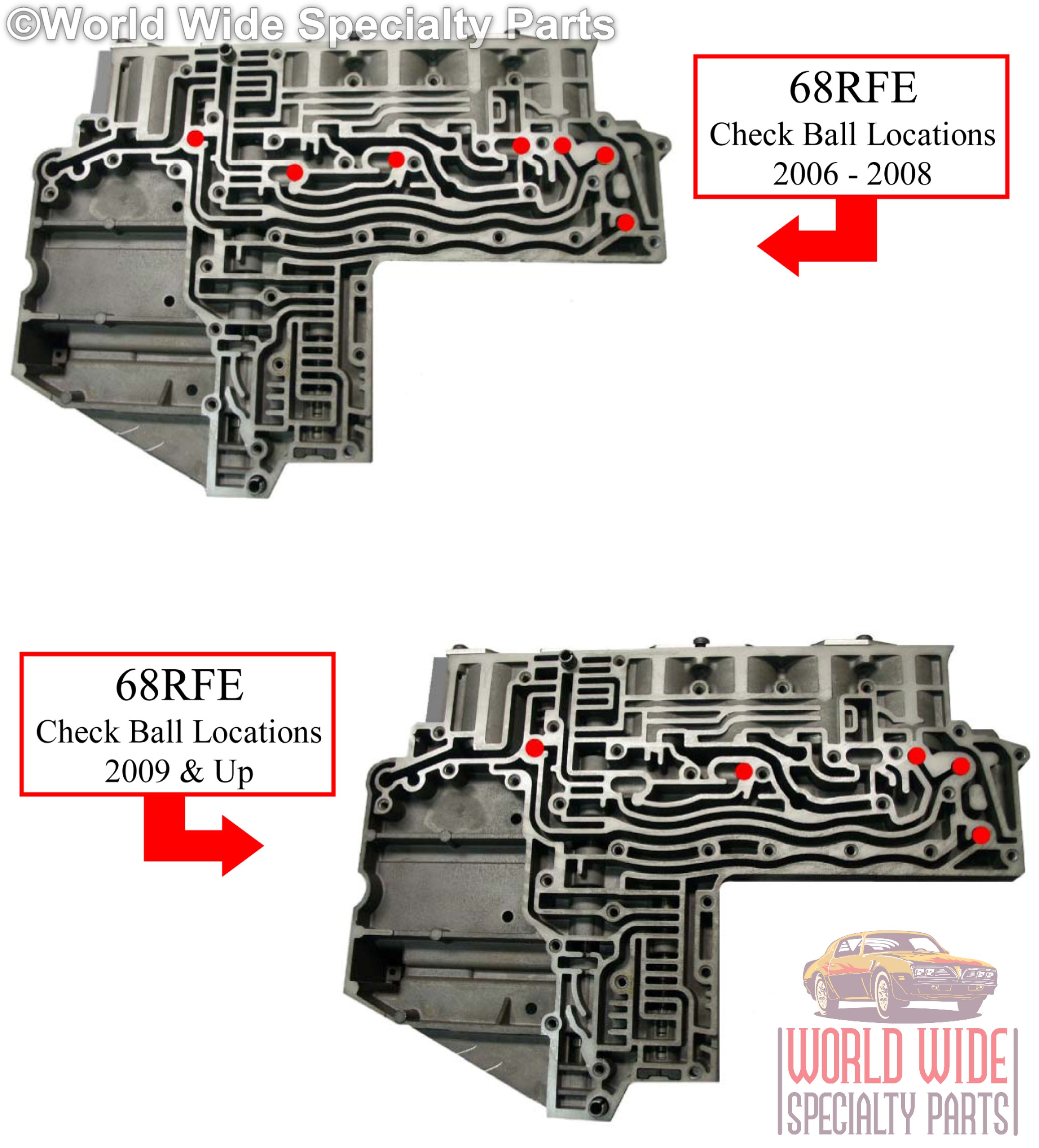 Above you can see all check ball locations for both versions of the 68RFE.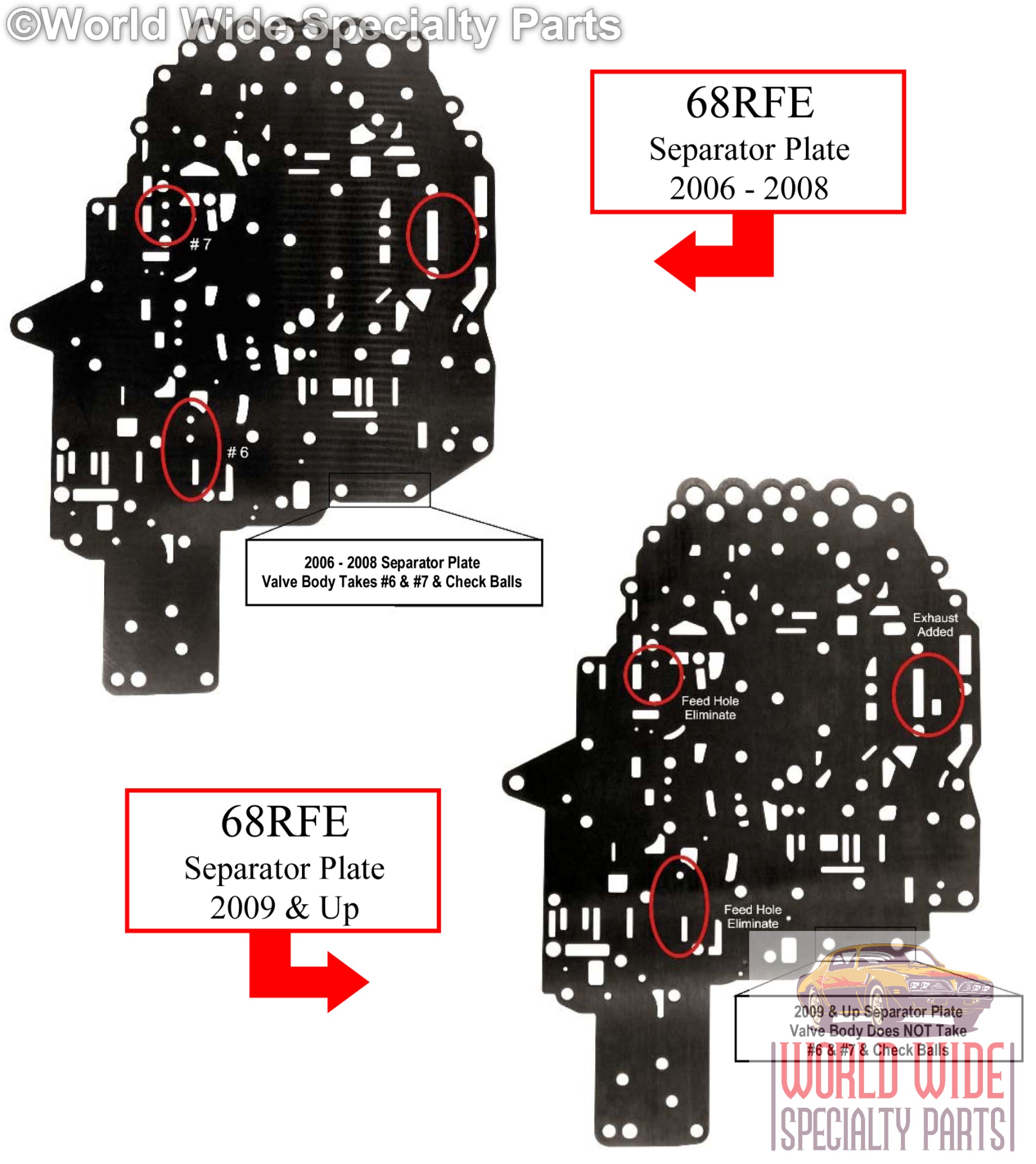 Product Videos
Custom Field
Reliability Upgrade 1
Updated Thicker End Plate
Reliability Upgrade 2
Updated Switch Valve Plugs
Manufacturer Part Number
65RFE 66RFE 68RFE
Country/Region of Manufacture
United States
Brand
World Wide Specialty Parts
Product Reviews