Product Description
This listing is for a Remanufactured GM 4L60E Valve Body, model years 2003-2008(Valve Body Gasket included) with the Transgo 4L60E-HD2 Reprogramming Kit installed. After many custom builds and requests from customers for a 4L60E with Transgo's 4L60E-HD2 installed we have now made it a permanent, in-stock item. This valve body with the Transgo kit installed is perfect for high-horsepower muscle cars and trucks and is backed by a 1 Year/Unlimited Mileage Warranty, or our available Lifetime Warranty(Valve Body Gasket Set Included)

The Transgo 4L60E-HD2 Reprogramming Kit allows the driver to hold 1st, 2nd, and 3rd to any speed - just backshift to 3rd, 2nd, or 1st by moving the lever.
The kit Corrects/Prevents/Reduces:
Code 1870/894

Trouble light and hard 1-2 shift

No lock-up or 4th Gear

Converter slip/shudder

Harmonic bounce that wears out pump and valves and causes shuttle shifts
For more detailed information please see Transgo's web site or give their product support number a call. We are also available to answer any questions or concerns you have.
Upgrades Installed: Upgraded Actuator Feed Limit Valve and the Transgo 4L60E-HD2 Reprogramming Kit.
PLEASE NOTE: There is a $50.00 Refundable Core Charge that is added to the price of the valve body. Once you remove your defective valve body and return it to us, the Core Charge will be refunded to you.
ALL Solenoids are retested before the valve body is shipped to you. Quality and reliability are our passion.

ALL of our Quality Remanufactured Valve Bodies are made here in the United States. This is not a cheap Chinese Rebuilt Valve Body like you will find at some auto parts stores. When you purchase from us, you are helping to create and maintain American jobs. Thank you.
If you need help identifying the valve body you need, we can do a VIN# lookup for your vehicle to make sure you get the right part the first time. Please see the Technical Information/Identification Guide below for information on how to properly identify the valve body your vehicle needs. If you have questions or need assistance please contact us and we will do our best to assist you.
You COULD pay LESS, or you could do it RIGHT the FIRST time and make it your LAST TIME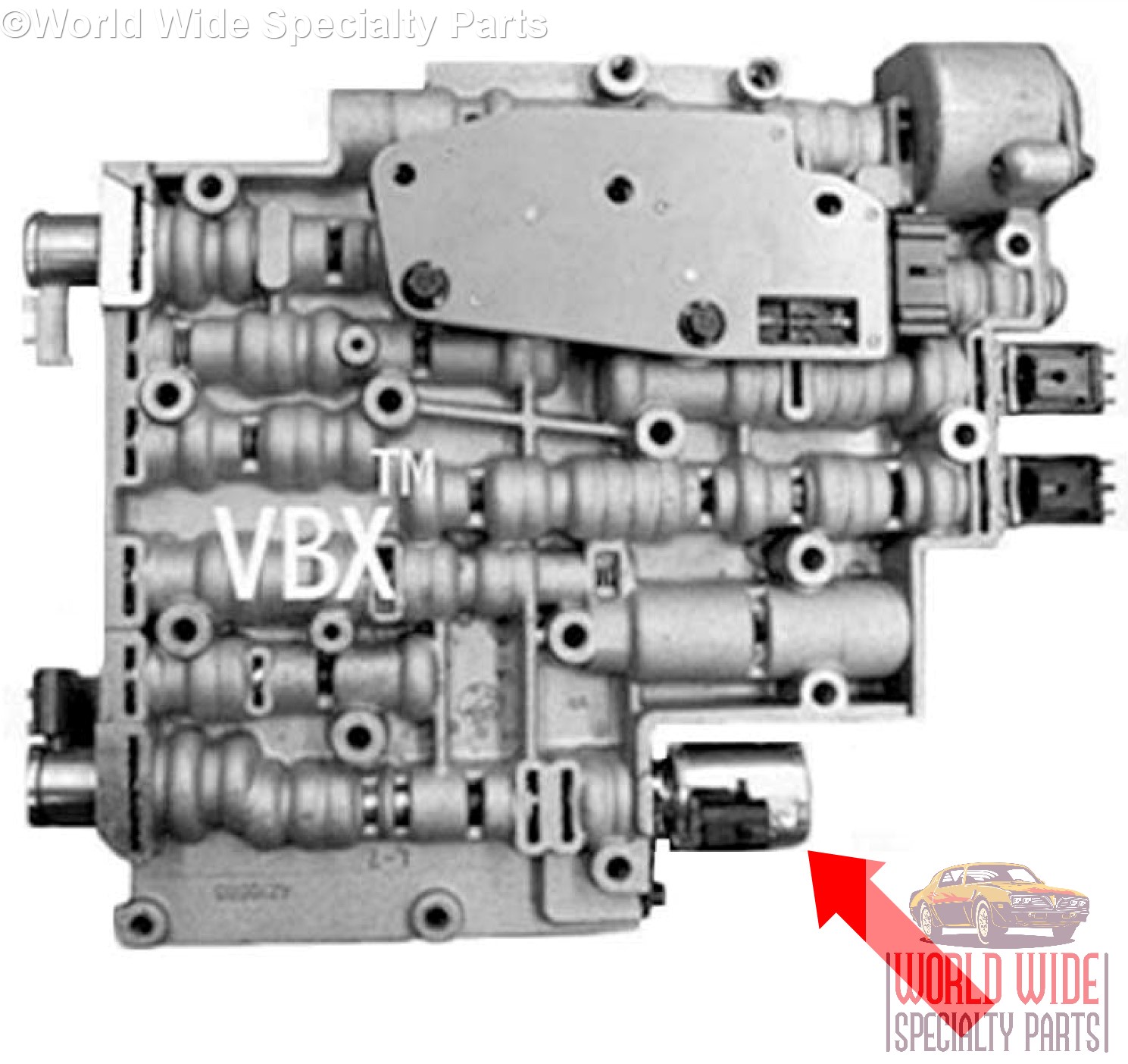 The 4L60E Valve Body for model years 2003-2008 has a Bosch Style
EPC. Please see RED ARROW above for its location.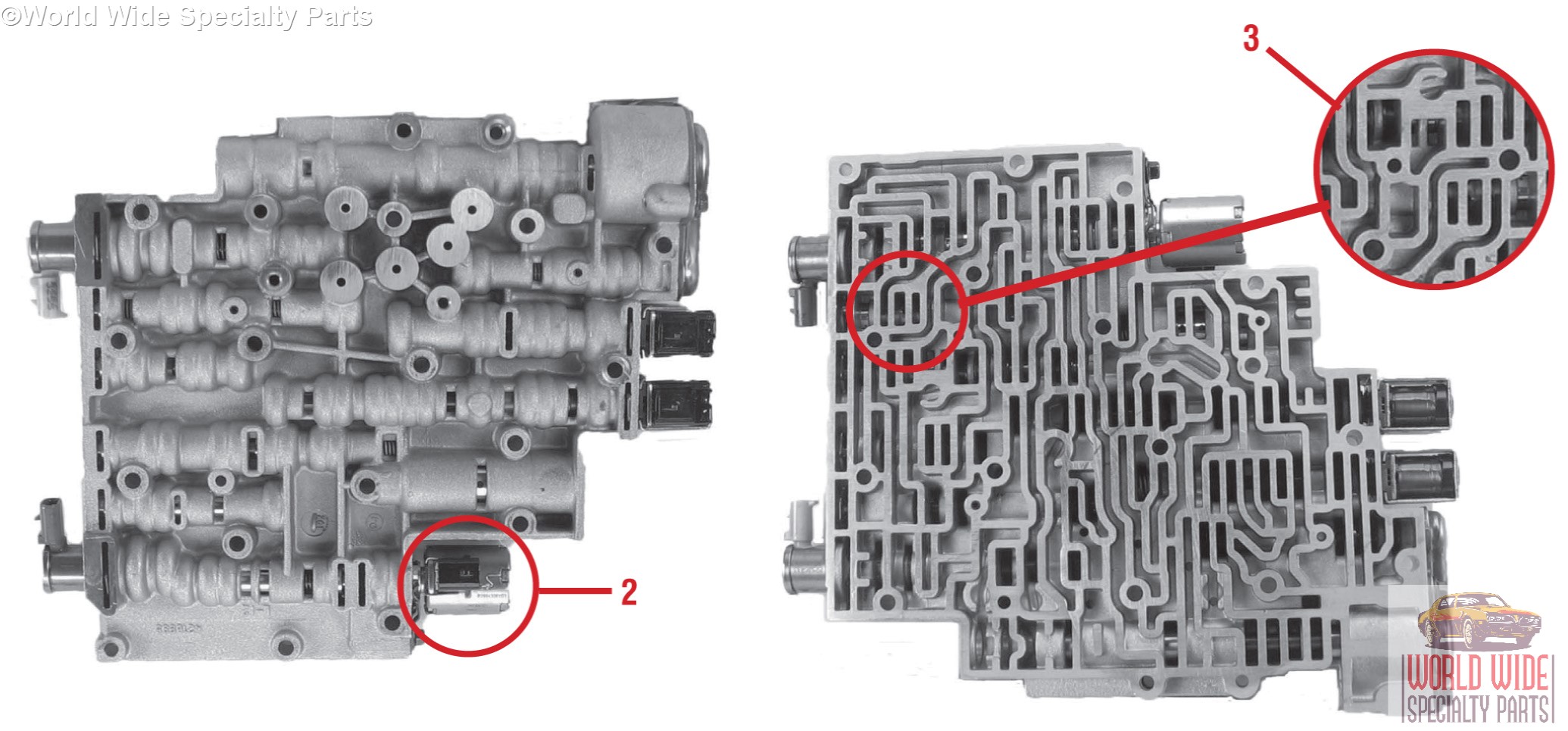 The 03-Up 4L60E uses a silver body Holley EPC solenoid with a molded connector (2).
The valve body also has a full annular TCC with a bridge in the center of the square
passage (3).
Problem: Some or all Solenoid Codes set when the vehicle is started.

Possible Cause #1: Check battery voltage during cranking. If the battery voltage drops below 10.5 volts, the battery needs charging, the cables need to be cleaned, or the battery needs to be replaced.

Possible Cause #2: The ignition switch may be faulty. Install a fused jumper wire between the positive battery cable and the "Trans" fuse in the fuse box on trucks. This will keep battery power to the solenoids during cranking if the ignition switch is bad. Start the engine and check for codes. If no codes are present with the jumper wire in place, then the ignition switch is bad.

Product Videos
Custom Field
Country/Region of Manufacture
United States
Reliability Upgrade 1
Upgraded Actuator Feed Limit Valve
Reliability Upgrade 2
Transgo 4L60E-HD2 Kit
Brand
World Wide Specialty Parts
Manufacturer Part Number
4L60E-HD2
Other Part Number
GM124-HD2
Modification Description
AFL valve updated and Transgo 4L60E-HD2 Reprogramming Kit Installed
Fitment Type
Performance/Custom
Product Reviews