Product Description
This listing is for a Re-manufactured Volkswagen 09G, 09M TF60SN Valve Body with Cooler on the Case, No Pressure Switches, and Large Diameter Solenoids. This version was used from July of 2004-UP. Due to the complexity of this valve body(there are 6 different versions, details can be found below in the Technical Information section) the only way to know for sure which version you have, is to inspect the one currently installed in your vehicle.

This valve body is better than OEM, it features many upgrades to increase reliability over the standard OEM valve body.
These upgrades include: The valve body has various Sonnax updates installed depending on wear levels and the design version. All Linear Solenoids are rebuilt and all other solenoids are tested and replaced if needed.
PLEASE NOTE: There is a $100.00 Refundable Core Charge that is added at checkout. Once you remove your defective valve body and return it to us, the Core Charge will be refunded to you. For detailed instructions, please read the Core Charge section on our FAQs/Glossary page.
If you need help identifying the valve body you need, we can do a VIN# lookup for your vehicle to make sure you get the right part the first time. Please see the Technical Information/Identification Guide below for information on how to properly identify the valve body your vehicle needs. If you have questions or need assistance please contact us and we will do our best to assist you.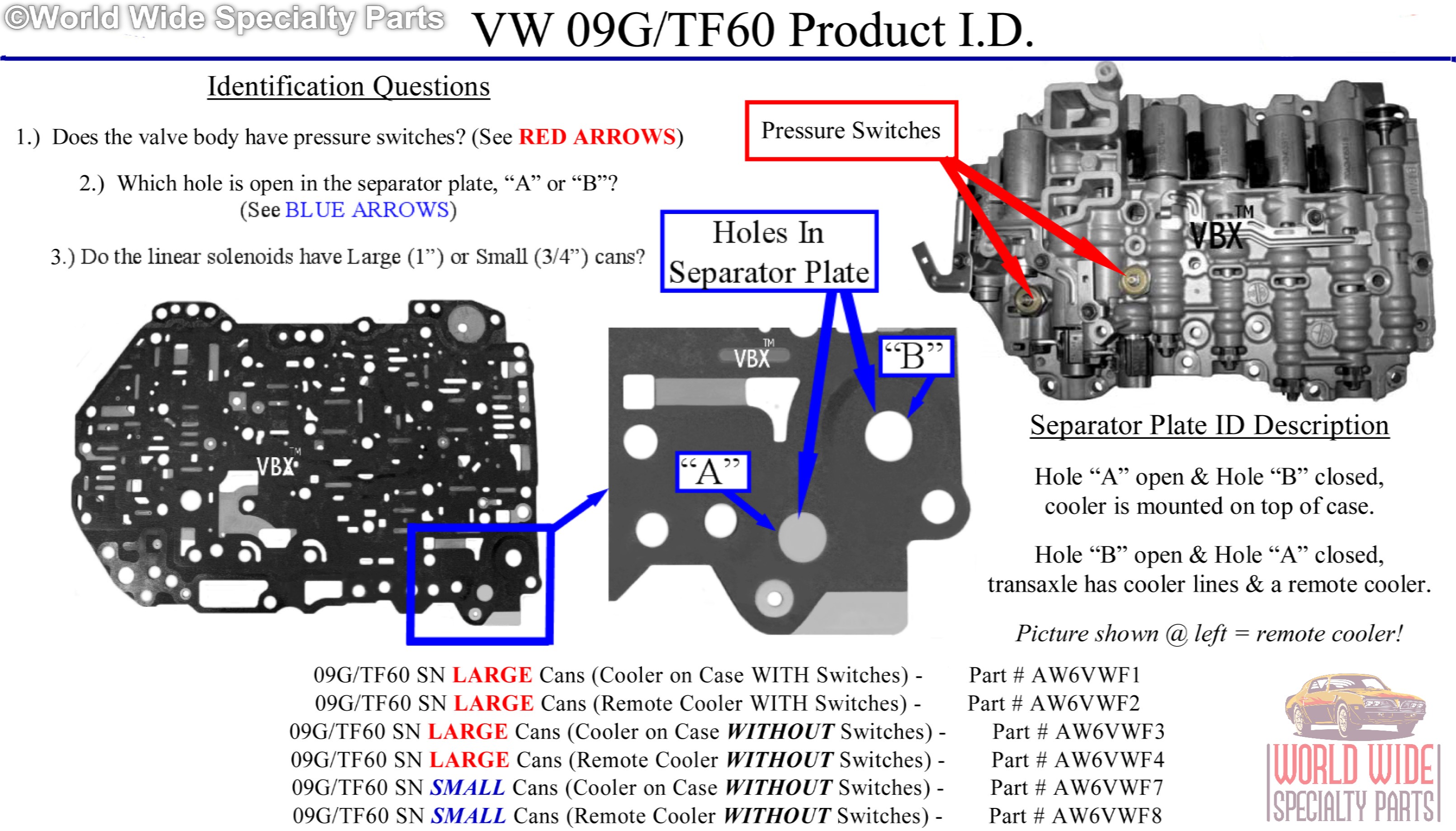 The above photo shows the different versions of the 09G valve body and how to identify them.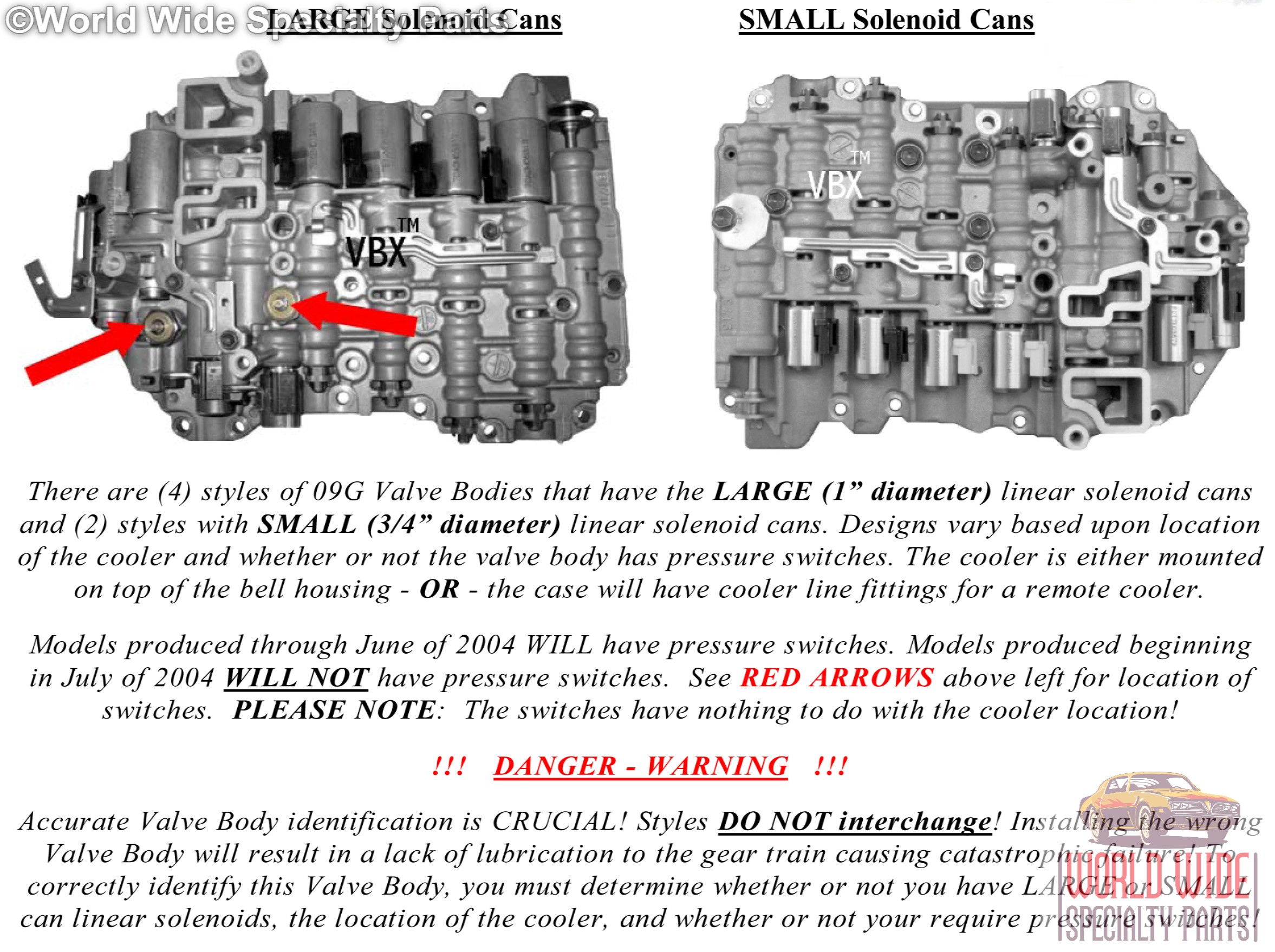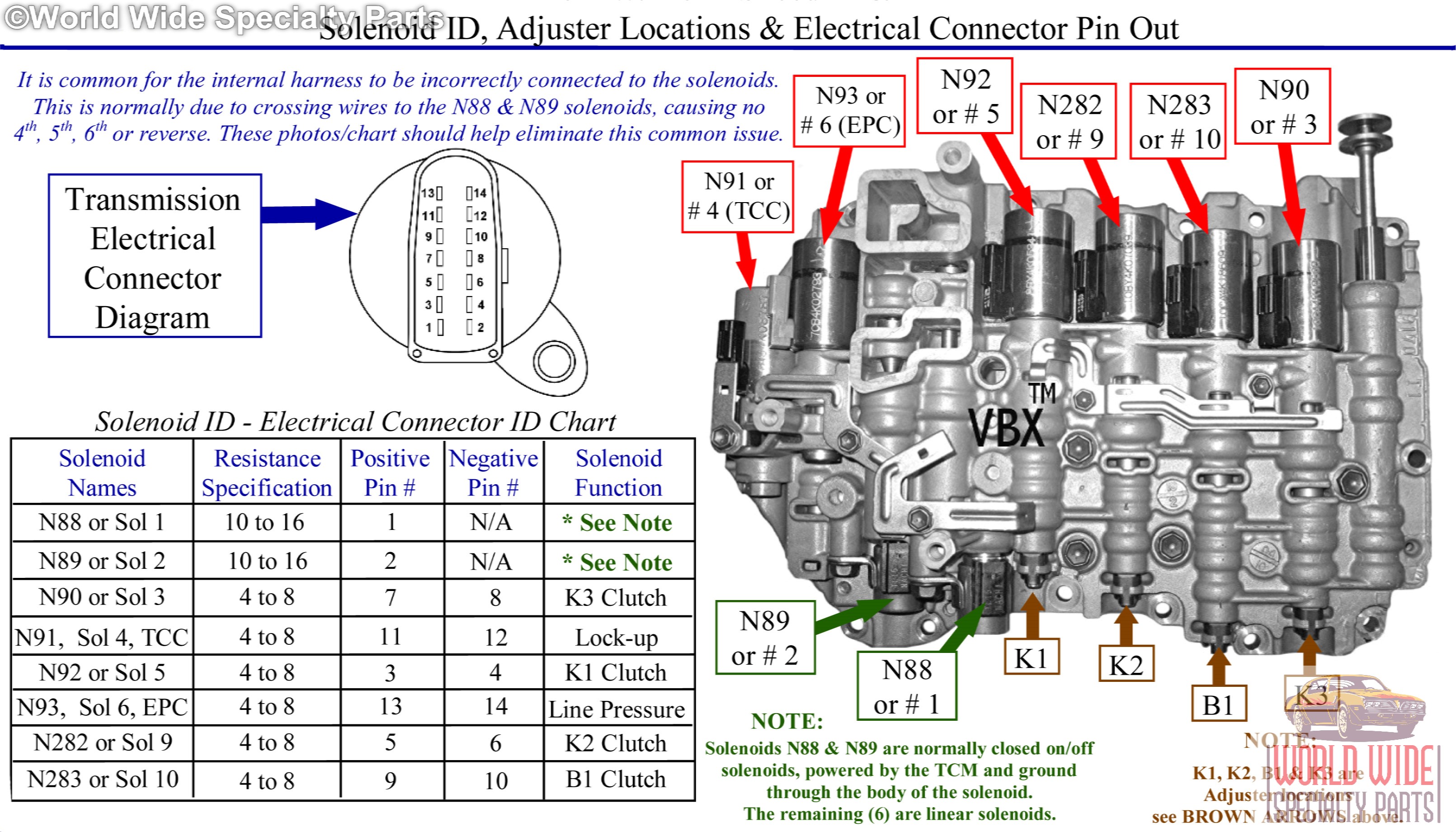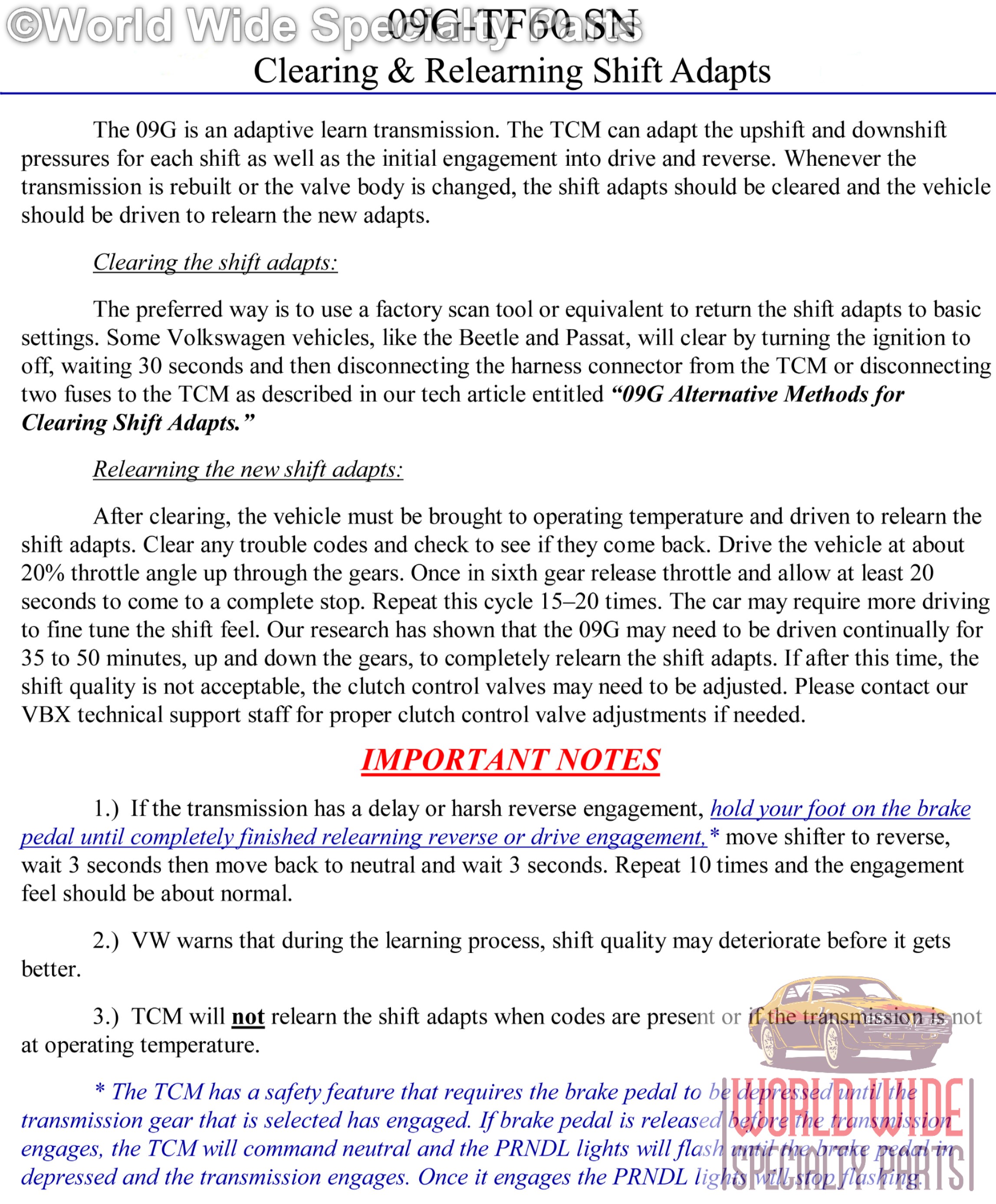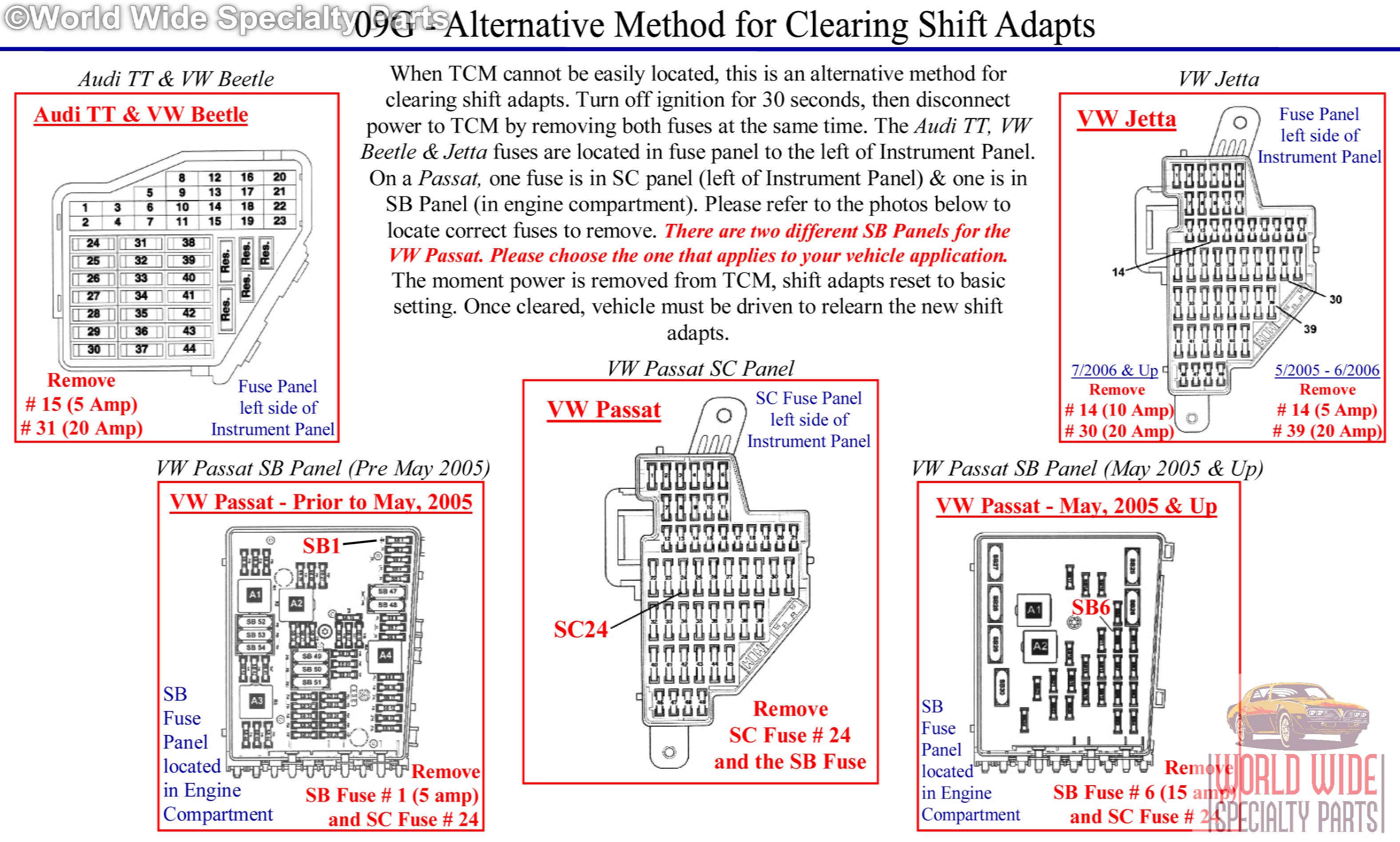 Product Videos
Custom Field
Reliability Upgrade 1
Various Sonnax Updates depending level of wear
Reliability Upgrade 2
Linear solenoids are rebuilt
Reliability Upgrade 3
All Solenoids Tested
Manufacturer Part Number
09G 09M
Country/Region of Manufacture
United States
Brand
World Wide Specialty Parts
Product Reviews